Thank you, your message has been sent successfully.
Constant, winner of the Financial Times.
Financial Times • 8 May 2023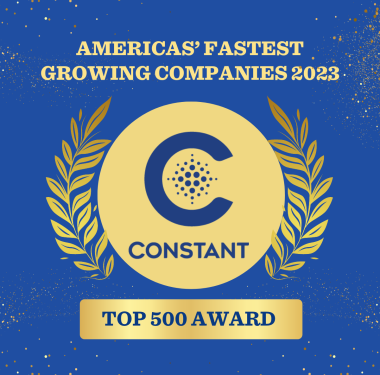 FOR IMMEDIATE RELEASE
Constant Awarded on the Financial Times Americas' Fastest Growing Companies 2023 List
[Montreal, Quebec, May 5, 2023] – Constant has been awarded on the Financial Times list of Americas' Fastest Growing Companies 2023 and came in third among chemical companies in the Americas. This prestigious award is presented by Financial Times and Statista Inc., the world-leading statistics portal and industry ranking provider. The awards list was announced on March 28th, 2023, and can currently be viewed on the Financial Times website - https://www.ft.com/americas-fastest-growing-companies-2023.
The Americas' Fastest Growing Companies 2023 ranking lists the top 500 companies in the Americas that have achieved the highest compound annual growth in revenues between 2018 and 2021. The data was collected via desk research in official sources like publicly available earning presentations, investor relations, websites, and annual reports. Across 20 countries, over 7,000 public companies were examined.
Based on the results of the study, Constant is ecstatic to be recognized on the Financial Times list of Americas' Fastest Growing Companies 2023.
The company's president, Sophie Constant, congratulates the entire team at Constant, saying this award is a "testament to the hard work, motivation and drive that each member of our team brings to work every day and to the loyalty of our customers, both in continuing to trust Constant for their chemical needs and in referring other customers to us."
-30-
CONTACT INFORMATION:
Constant International.
Julien St-Louis – Marketing project manager
514-761-3339 (ext 320)
jstlouis@constantinternational.com
Globe and Mail fourth-annual ranking of Canada's Top Growing Companies.
The Globe and Mail • 23 September 2022
GMP certification
Good news • 20 September 2022
Partner of choice in the development of chemical solutions internationally
Actualité Alimentaire • 1 May 2021
Let our Experts Solve Your Problems.
For more information on our products and services, please contact us.
Tell me more
Please check your email for the reset link
You are already logged in