Thank you, your message has been sent successfully.
Globe and Mail fourth-annual ranking of Canada's Top Growing Companies.
The Globe and Mail • 23 September 2022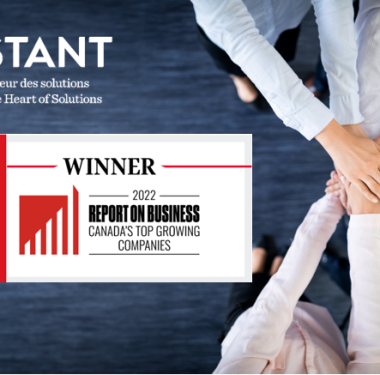 Constant places No, 413 on The Globe and Mail's fourth-annual ranking of Canada's Top Growing Companies.
Top Growing Companies
Constant is pleased to announce it has placed No. 413 on the Globe and Mail's 2022 Report on Business ranking of Canada's Top Growing Companies.

Canada's Top Growing Companies ranks Canadian companies on three-year revenue growth. Constant earned its spot with three-year growth of 59%.
« Ranking on Canada's Top Growing Companies List means a lot to us. It's not every day that a 40 year old company such as ourselves, attains such growth and it's nice to have the achievement acknowledged,» says Sophie Constant, President of the company. « It's a clear sign that we're going in the right direction and it inspires us to work harder to find new and sustainable ways to meet our clients' needs. We wouldn't be where we are today without our loyal customers and our employees who care and take pride in their work.»
Canada's Top Growing Companies is an editorial ranking that was launched in 2019. It aims to celebrate the boldest entrepreneurial achievement by identifying and bringing the accomplishments of innovative businesses in Canada to the forefront. In order to qualify for this voluntary program, companies had to complete an in-depth application process and fulfill requirements. In total, 430 companies earned a spot on this year's ranking.
« Canada's Top Growing Companies recognizes the tremendous ambition and innovation of entrepreneurs in Canada," says Dawn Calleja, Editor of Report on Business magazine. "The next generation of Canadian businesses can draw inspiration from this ranking.»
« In an uncertain world, the success stories of the companies marked in this year's Report on Business magazine's list of Top Growing Companies are a beacon of optimism,» says Phillip Crawley, Publisher and CEO of The Globe and Mail. « The Globe and Mail congratulates them on their achievements.»
The full list of 2022 winners along with editorial coverage is published in the October issue of the Report on Business magazine. The list is out now and online here: https://www.theglobeandmail.com/business/rob-magazine/top-growing-companies/article-canadas-top-growing-companies-meet-430-businesses-that-will-give-you/
About Constant
Founded in 1982, Constant has built a solid international reputation for quality products and reliability, always putting its customers' needs first. The company goes beyond the simple manufacture of chemicals. It offers turnkey solutions focused on innovation and sustainability… these solutions include the technical assistance of a skilled and reliable team, engineering expertise to provide top-performing chemical dosing systems, and training and support for its clients. In Constant's laboratories, its scientists are continually improving and developing its already vast range of products, always in line with Constant's commitment to environmental responsibility.
Constant, winner of the Financial Times.
Financial Times • 8 May 2023
GMP certification
Good news • 20 September 2022
Partner of choice in the development of chemical solutions internationally
Actualité Alimentaire • 1 May 2021
Let our Experts Solve Your Problems.
For more information on our products and services, please contact us.
Tell me more
Please check your email for the reset link
You are already logged in