Thank you, your message has been sent successfully.
Webinar: Cleaning, Sanitation, and Excellence
Constant Team • 13 November 2023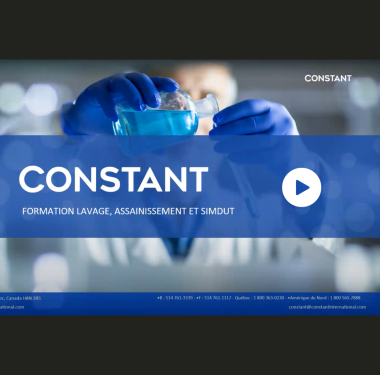 Cleaning, Sanitation, and Excellence: Personalized Training for Agri-Food Quality Control Experts in Quebec
In the ever-evolving world of the agri-food industry, quality control is paramount to ensuring the safety of the products we consume. At Constant, we take pride in our commitment to share our knowledge and expertise with those working in this field. Recently, we had the opportunity to host a webinar for a private group of professionals in the field of quality control in Quebec.
An Informative and Inspiring Webinar
Held on October 25th, 2023, our webinar provided a unique insight into the world of washing, sanitation, and excellence in agri-food quality control. The session was led by Nelson Perreault, an expert in the field.
The inspiration for this webinar arose during a business dinner, and we would like to express our gratitude to Pierre Monette, Dany Ethier, and our partners for their contributions in making this initiative a reality.
Topics Covered in the Training
Our webinar delved into several essential aspects of agri-food quality control, including:
HACCP (Hazard Analysis Critical Control Points): We explored the definition of HACCP, its origins, and its critical role in the food industry. We also discussed potential hazards and the objectives of this system.
Microbiology: We examined contaminating microorganisms, their impact on food quality, and the factors that promote their growth, all while addressing measures to control contamination risks.
Sanitation: Cleaning and sanitation practices were at the heart of the training, highlighting key factors, chemicals used and essential cleaning steps.
Safety and SIMDUT: We delved into SIMDUT (the Workplace Hazardous Materials Information System) and workplace safety, covering chemical product classification, symbols, legal obligations, and preventive measures.
Constant: Your Trusted Partner Since 1982
Since our establishment in 1982, Constant has emerged as a leader in the production of chemicals for the agri-food industry. Our commitment to food safety is at the core of everything we do. With expertise in hygiene technology, we can meet the specific needs of your industry, exceeding regulatory requirements, reducing costs, optimizing water and energy consumption, and extending the shelf life of food products.
Would you like to revisit the webinar?
If you missed our webinar, don't worry. You can access the video recording (French only) by filling out the contact form on the registration page https://info.constantinternational.com/Formation-lavage-et-assainissement-revisionnement/
A Constant representative will contact you to provide the webinar recording link.
Stay informed about upcoming events by following us on LinkedIn or signing up for our newsletter.
Stains food industry sector
Pierre Monette • 4 June 2021
Biofilms
Abderrahmane Slimani • 30 July 2020
Cleanliness - a guarantee of quality
Let our Experts Solve Your Problems.
For more information on our products and services, please contact us.
Tell me more
Please check your email for the reset link
You are already logged in